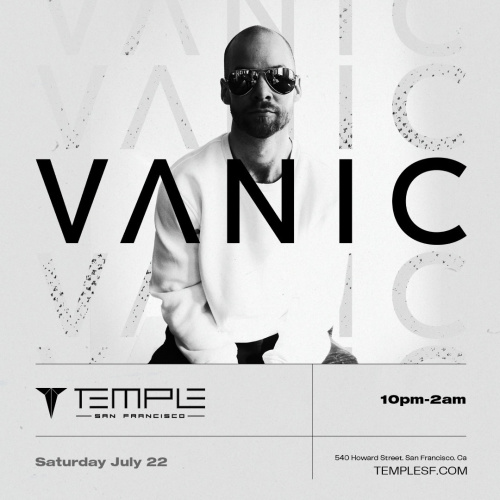 Temple Nightclub
540 Howard StreetSan Francisco CA, 94105
Get Directions
Saturday, Jul 22, 2023 @ 10:00pm
Vanic
Event Description
From the outside looking in, the Vanic story so far seems a dream. Touring around the world performing in front of vast audiences and signing to Sony's Disruptor label in 2016 after a run of huge unofficial remixes set the dance community on fire, it looked like the world was Vanic's oyster. The hits came in swift succession: 'Samurai', 'Too Soon' with Maty Noyes and 'Staring At The Sun' with Clara Mae captivated fans new and old, 'Too Soon' scoring him Top 40 standing in the official US Dance Charts. But for Vanic, the success came with a creative cost.  
In every artist's career there are moments of pause and reflection. For Jesse Hughes, better known to millions of electronic music fans around the world as Vanic, that moment ended up being an entire year, 12 months where the Canadian producer pressed the reset button on his creative and emotional process and bought himself back to his roots. 
"I felt like I'd lost my way," he said from his studio in Vancouver. "I felt like I was making music for other people, that I was being contained and influenced to produce music that was formulaic. I wasn't making music for myself any more. I wasn't being authentic and I had to change that." 
And just like that, as his profile looked set to hit the stratospheric super leagues, Vanic completely disappeared from view.  
The refusal to stick to the rules should have been easy to spot. Trained to play piano from the age of just 3, Vanic pushed back against the restraints of classical music to explore the freeform patterns of jazz and ragtime, at the same time listening to metal and happy hardcore. Indulging in a growing passion for production and electronica during high school, he rebelled again at college, swapping out the stability and safety of a degree to pursue music full time. Over and over again Vanic has chosen the path of creative authenticity, whatever the cost.  
Now, 12 months later, Vanic is ready to reemerge. In his hands, a debut artist album that as he puts it is "a little bit of the past and a lot of the future". The new body of work sees him return to his musical roots but also explore new territories like house, DnB and bass. The first track to see the light of day will be 'So Slow', a collaboration with long time vocal favourite K. Flay that should delight listeners. A sumptuous, luxurious production of future house and bass, the track sets the tone for a new era, one where Vanic allows himself space to experiment with different influences and new sounds. For the Canadian's army of fans, this next chapter in his journey surely promises to be just as explosive as his beginning.
Purchased tickets grant access to both events happening at Temple SF in the main room and LVL 55 downstairs.
Temple SF is a 21+ venue.
For VIP / Bottle Service, please contact: vip@templesf.com
DRESS CODE POLICY:
Temple Nightclub has a strictly enforced dress code. We do not permit: hats, sandals, sneakers, shorts, ripped or baggy clothing and athletic wear.
TICKET REFUND POLICY:
Temple Nightclub tickets are final-sale. No refunds or exchanges are offered.