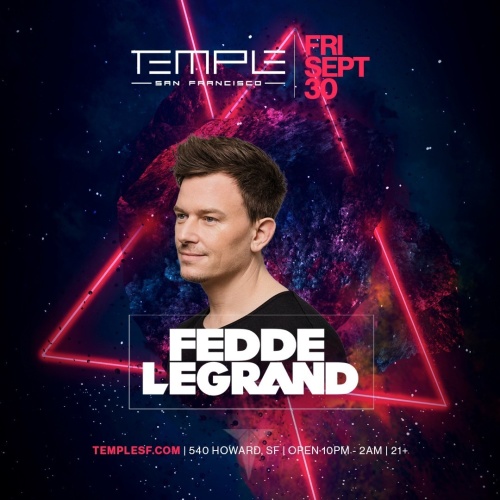 Temple Nightclub
540 Howard StreetSan Francisco CA, 94105
Get Directions
Friday, Sep 30, 2022 @ 10:00pm
Fedde Le Grand
Event Description
Enjoying artistic freedom afforded only an elite few, Fedde Le Grand is a masterful pioneer of electronica, considered by countless fans and artists as one of the single most defining figures in House music. Whether as DJ or producer, Fedde's influence can be felt throughout the electronic landscape; his creative beats, grooves, melodies and rhythms surround us all and have done so for many years. He's been credited countless awards and remixed the biggest artists around – from Coldplay, Madonna, will.i.am, Robbie Williams, Everything But The Girl, and Fatboy Slim, to Shakira, Rihanna, Mariah Carey, Faithless, and his own all-time musical inspiration Michael Jackson. He's featured the top half of the acclaimed DJ Mag Top 100 for well over a decade and has just returned to an incredible #22 after first entering at the same position all the way back in 2007. Le Grand is here, to stay.
When it comes to solo records it was the seminal electro track 'Put Your Hands Up For Detroit' that not only brought Le Grand to global attention, but breathed fresh life into a stagnant house scene. Dubbed by many as the "Saviour of House", it soon became evident that the Dutchman was no one-trick pony. Amongst others, tracks like 'The Creeps', 'Let Me Think About It', 'Back 'N Forth', 'Metrum', 'So Much Love' and 'Sparks (Turn Off Your Mind)', have established him as one of the most exciting and consistent talents around, demonstrating his effortless ability to move seamlessly between huge mainstream success and edgier, underground sounds.
His already impressive musical resume just kept building with titles like 'Long Way From Home', 'Rockin' N' Rollin', 'No Good', 'Where We Belong' and 'Don't Give Up', to more recent additions like 'Love's Gonna Get You', 'Keep On Rising', 'Coco's Miracle' and a little trip down memory lane with miss Ida Corr joining next to Shaggy on 'Firestarter' as well as the massive 'Let Me Think About It' Celebration rework. While enough to dazzle many, both of his albums 'Output' (2009) and 'Something Real' (2016) include even more smash titles like 'Cinematic', 'Feel Good', 'Give Me Some' and the massive 'Rhythm Of The Night'. Establishing him as one of the foremost creative forces in electronic music, Le Grand shows no signs of slowing down. Kicking off 2018 with the releases of 'Bump 'N Shake', 'Monsta', 'You Got Me Runnin', 'Flex' featuring General Levy, 'Hit The Club', casually adding three free downloads for charity (icw BBIN x DJ Mag) – 'The Gaming Beat' featuring Kris Kiss, 'You Lift Me Up' and 'Scream Out Loud' - while leading into his thankfully received remix for The Chainsmokers' 'Side Effects'.
Being a DJ from the first hour, around the globe millions have witnessed show-stopping live-sets and his innate ability to move any crowd, exploding with ingenuity and originality as the only way he knows how. Huge performances across continents are par for the course for Le Grand, with the likes of Ultra Music Festival, Tomorrowland, Untold Festival, Parookaville, Sunrise Festival, Coachella, EDC, STORM Festival, Medusa, Big Slap Festival, Exit Festival, Global Gathering, Creamfields, Electric Zoo, Sziget, Palmesus, SW4, Airbeat One, Sensation and the list just continues to grow. Most impressively having added his genre-defying own show concept GRAND, combining live theatre with dance, this show truly is The Next Level In Dance. Developed and only seen in The Netherlands thus far, this show is about to create a shockwave as it hits the rest of the globe.
Not only indulging in his own perfectionist musical tendencies, Fedde is always focussed on nurturing new talent using his years of hard-earned experience to push them towards superstardom. The list of talent that enjoyed support of Fedde's hand is long and impressive, and included the likes of Nicky Romero, Hardwell, Danny Avila, Jewelz & Sparks to name but a few. His Darklight Sessions radioshow has become a commonplace for fans across the globe to catch a glimpse of the new talent and tracks of Fedde's musical liking in the broadest sense. Airing worldwide on the biggest local broadcasting giants, before getting its weekly online upload to enjoy on-demandrerun-pleasure for eternity, the show delivers Le Grand straight to your doorstep!
Yet through all the success – the international chart-topping heights and global DJ fame – Fedde's focus is simply fixed on making and playing great tracks. His dedication to music and his unwavering passion for the dancefloor continue to make him an intrinsic and dominant part of the ever-evolving electronic scene. A touchstone, an inspiration and a pioneer; he is definitive, he is essential, he is house music at its finest.
He is Fedde Le Grand.
Purchased tickets grant access to both events happening at Temple SF in the main room and LVL 55 downstairs.
Temple SF is a 21+ venue.
For VIP / Bottle Service, please contact: vip@templesf.com
DRESS CODE POLICY:
Temple Nightclub has a strictly enforced dress code. We do not permit: hats, sandals, sneakers, shorts, ripped or baggy clothing and athletic wear.
TICKET REFUND POLICY:
Temple Nightclub tickets are final-sale. No refunds or exchanges are offered.